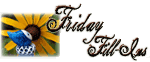 1. When it's quiet
I am very happy
.
2.
I will start my job
in what seems like a month
(because I do have professional development classes to attend in about a month).
3. My heart is
thankful for the people I love
.
4.
My birthday is on the tenth of
July.
5. In the town where I was born
, my in-laws live--yet we never met when I went back to visit
. I met my husband when he moved to our area.
6.
His trustworthiness
is something I really love about my significant other / friend.
7. And as for the weekend, tonight I'm looking forward to
having Justin get home before 8:30
, tomorrow my plans include
taking the kids to walk in a neighborhood parade
and Sunday, I want to
enjoy some good BBQ at my parents' house and end the day watching fireworks
!