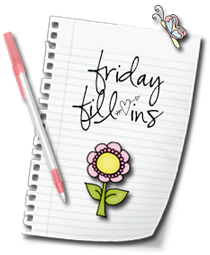 1. It's time for
getting dressed
.
2.
Chick Fil A
; it's not a bad place for
eating delicious fried food while chatting with my friend
.
3. I must be
crazy to think I could get through a sleepover
without someone throwing a major fit (Mr. Blue is in the midst of one as I type this).
4.
Motherhood
is the best thing I have ever known.
5. My
house
is simply
messy
.
6. The last time I laughed really loudly was
Wednesday when my son yelled, "I love the Big Balls!"
. (Check out
this post
if you don't know what I'm referring to.)
7. And as for the weekend, tonight I'm looking forward to
chilling with my family
, tomorrow my plans include
going to a friends' house to have Justin's special French toast with them
and Sunday, I want to
have lunch with my parents at Pei Wei!
It's sad how many of these involve eating--I suppose because it's one of the few indulgences that I can still do even when my children are interrupting!
Check out other Friday Fill-Ins
here
.