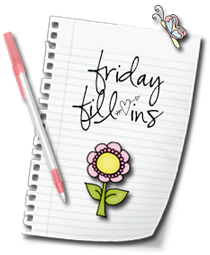 Graphic courtesy of
Tonya
!
And...here we go!
1. When will
I start believing in myself
?
2.
The Egg and I
(book) was the last good book I read or movie I saw or tv show I watched.
3. Everything has its beauty but
it is in the eye of the beholder
.
4.
Green chile chicken enchiladas
is what I had for dinner.
5. I'd like your
thoughts
.
6.
A luxury spa
is where I want to be right now.
7. And as for the weekend, tonight I'm looking forward to
eating ice cream at the diner where my brother's rehearsal dinner is being held
, tomorrow my plans include
joyously attending my brother's wedding to his true love
, and Sunday, I want to
worship with my church family
!